OUR EXPERIENCE GOES BEYOND CLOSETS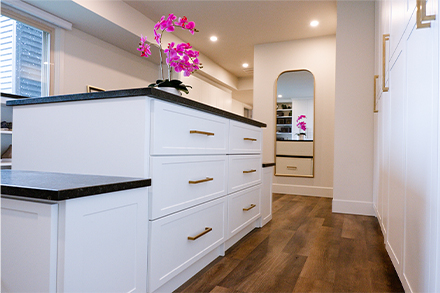 Make Life Easier With Upgraded Living Spaces!
At Shelving Unlimited, we can help you get the most out of the available space in your closet. Let us help design the closet of your dreams!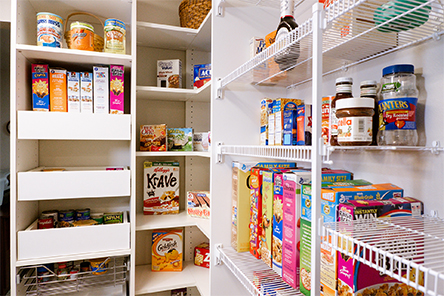 Low on Cabinet or Counter Space? Upgrade Your Pantry!
We have designed many pantries over the course of nearly 40 years of experience. We know exactly how to help increase the efficiency and functionality of your pantry.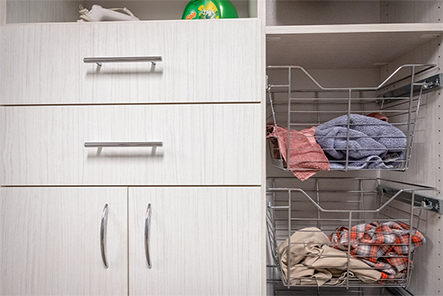 Is Your Laundry Area Getting Crowded? We Can Help!
From normal cabinets to stowaway ironing boards, we can design and install an improved laundry space without you ever getting your hands dirty!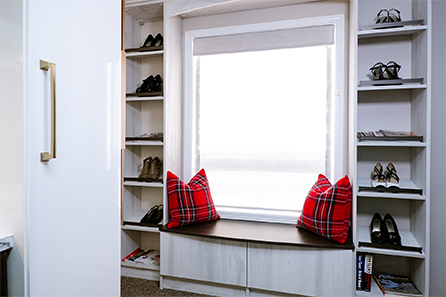 Tired of the Mess? We  Can Reduce Your Clutter!
Are your family's coats, hats, gloves, and shoes in your way? Let us analyze your needs within a FREE in-home consultation, and then design a layout to help eliminate clutter!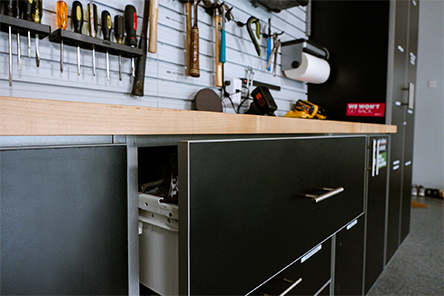 A Forgotten Room in Your Home? Be Proud of Your Garage!
We have melamine cabinets that can store all of your other outdoor necessities. Increase the usable storage space in your garage and raise the value of your home!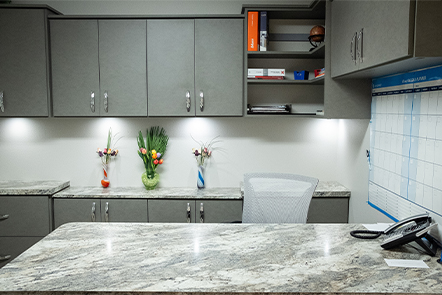 Looking for the Perfect Office Furniture for Your Space?
Commercial offices and home offices can be very unique spaces with sometimes unconventional dimensions. Let us design custom office furniture to fit your space perfectly and maximize your productivity!
Our specialty is custom shelving. Therefore, our customer service is focused on helping to design the best custom shelving for your home – and giving you the best possible experience while we do it. We love what we do! 
All of our melamine shelving units are made in-house and fabricated locally! We manufacture our own materials at our 4,000 sq. foot facility in South Beloit, IL. 
Our CNC operator and fabrication engineer, Don, is a tenured industry expert in the manufacturing of melamine products. There are no limitations on what we can fabricate for your new closet. We customize every piece of shelving to meet your exact needs. We can also provide 3D drawings for your new design! 
Take a look at some of our recent melamine shelving projects:
Are you ready to design the closet of your dreams? Visit our showroom to get inspired! Give us a call today at (815) 654-3000 to set up an appointment.