Picture
Perfect

Closets Installed in 1 Day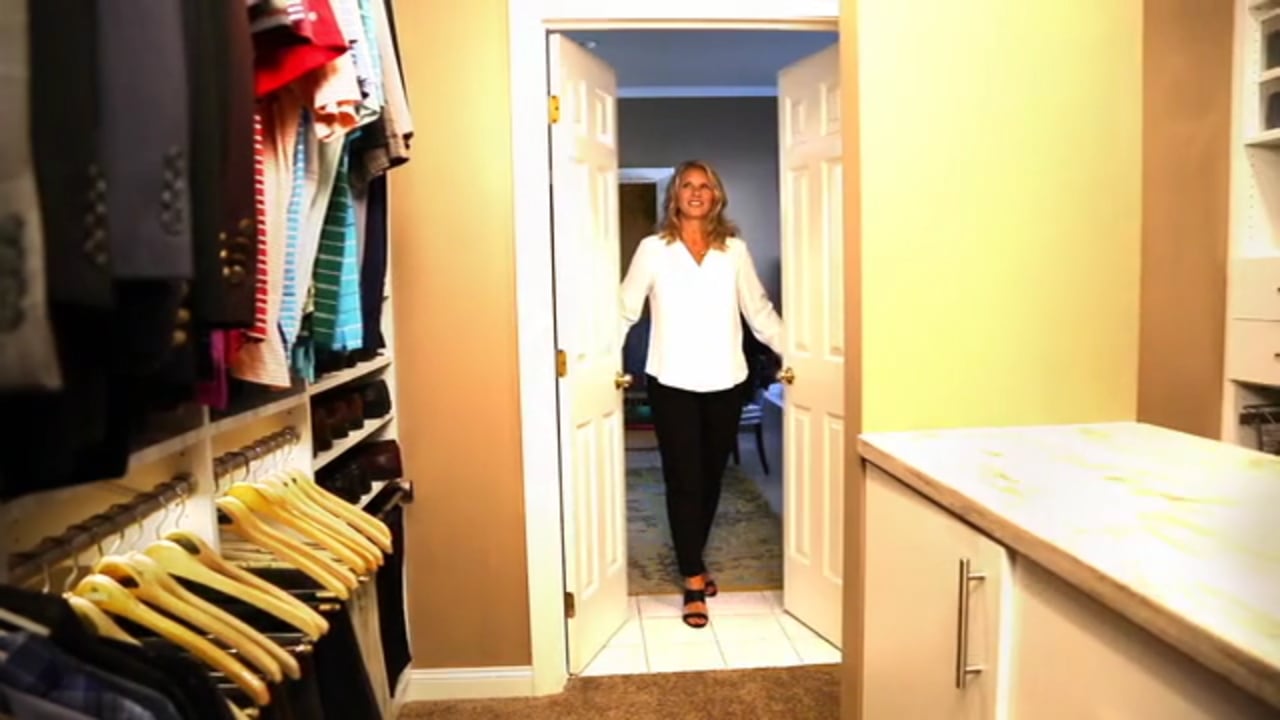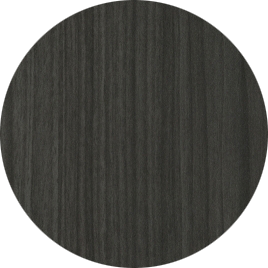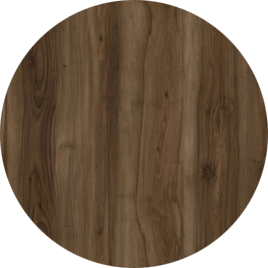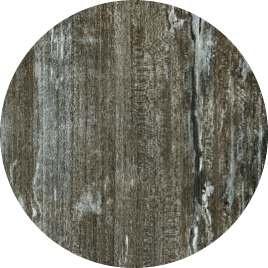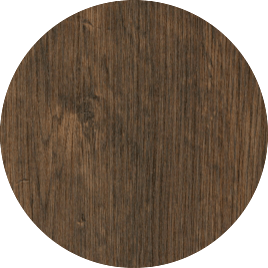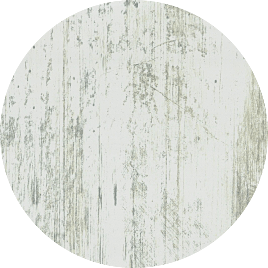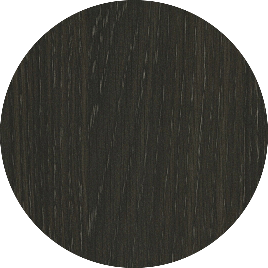 Solid colors + over 50 thermally fused laminate colors are in stock and available. Your time is valuable, so our world class installers will be in and out of your home within one day.
Conveniently located 1.75 miles south of Cherryvale Mall. See melamine and wire closet shelving, glass shower doors, pantry and laundry shelving, garage shelving, home office furniture, and entertainment centers.
Why People Trust Shelving Unlimited?
The KEY is in the DESIGN! We have been designing great closets for over 35 years as a LOCALLY OWNED business and have learned how to maximize storage space in practically ANY area of your home. We measure your clothes, shoes, belts, etc to ensure that our custom design layout for your closet will work well for you.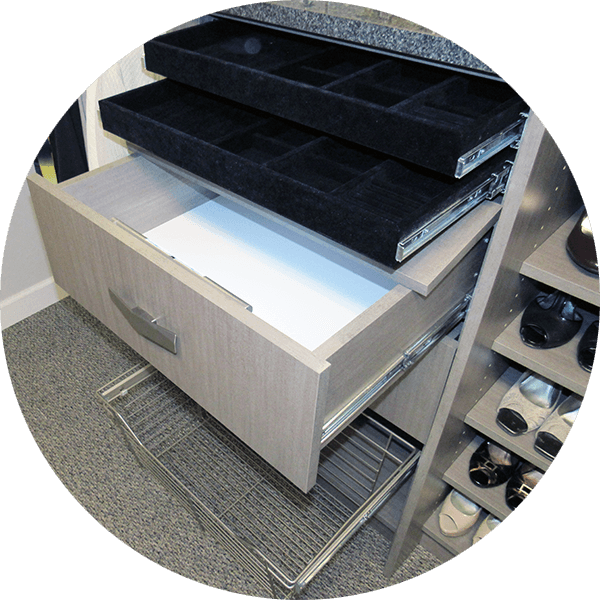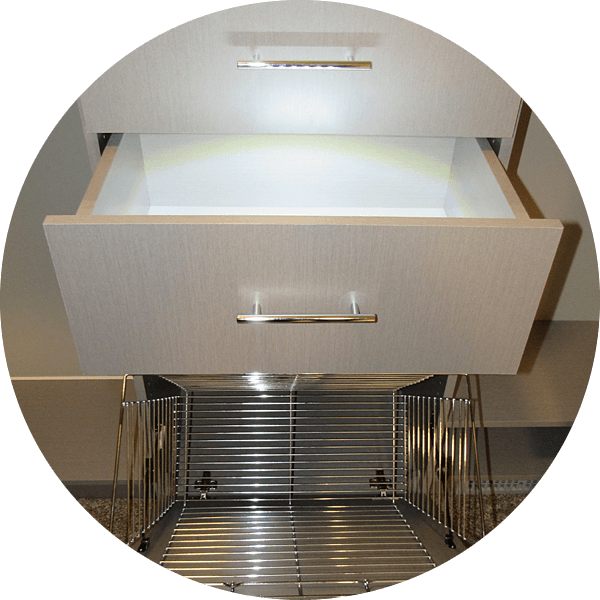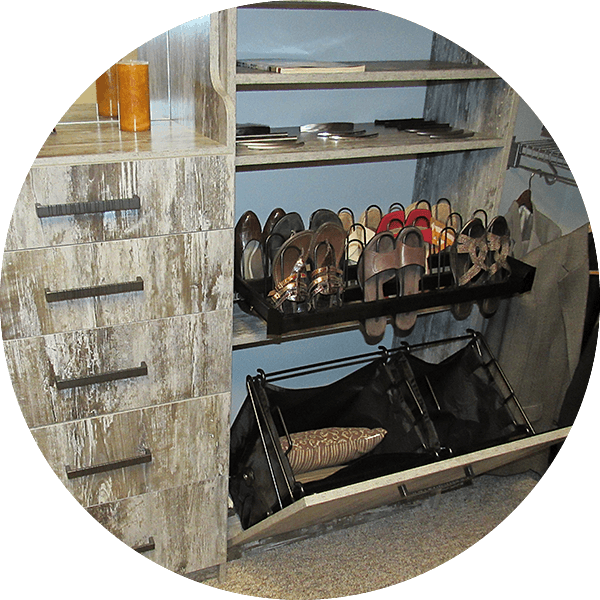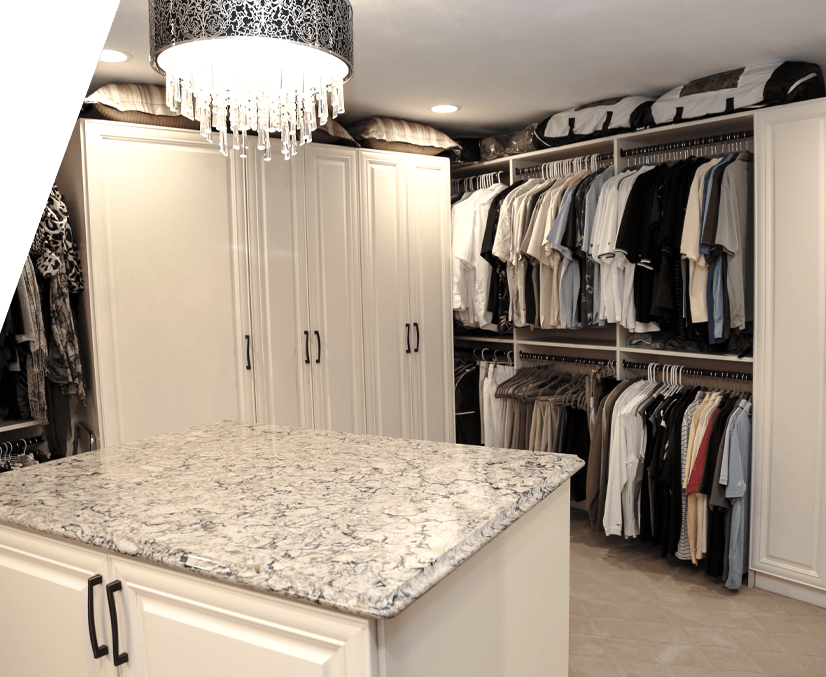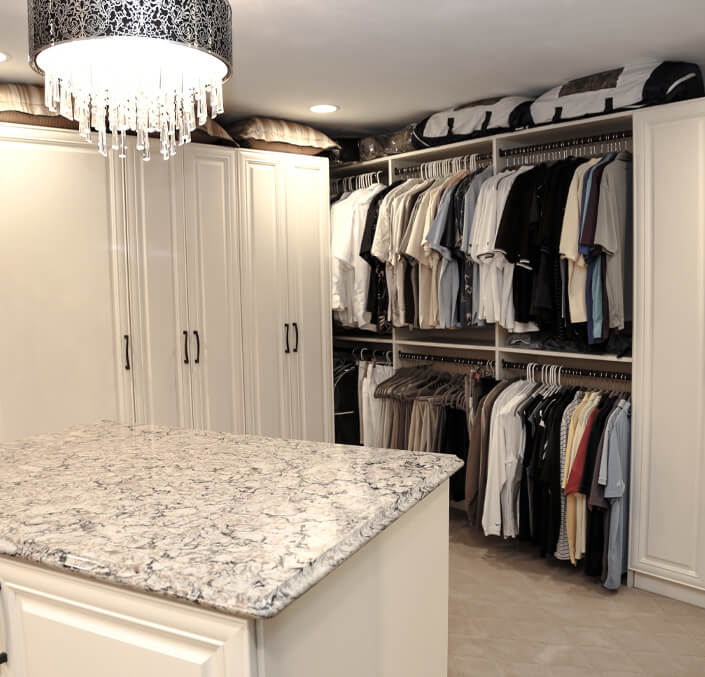 Amazing place to get shelving done professionally. This is quality stuff! If you want to organize your belongings, then I highly recommend this place! Best customer service around!
Beautiful Melamine Shelving for Your Walk-In Closet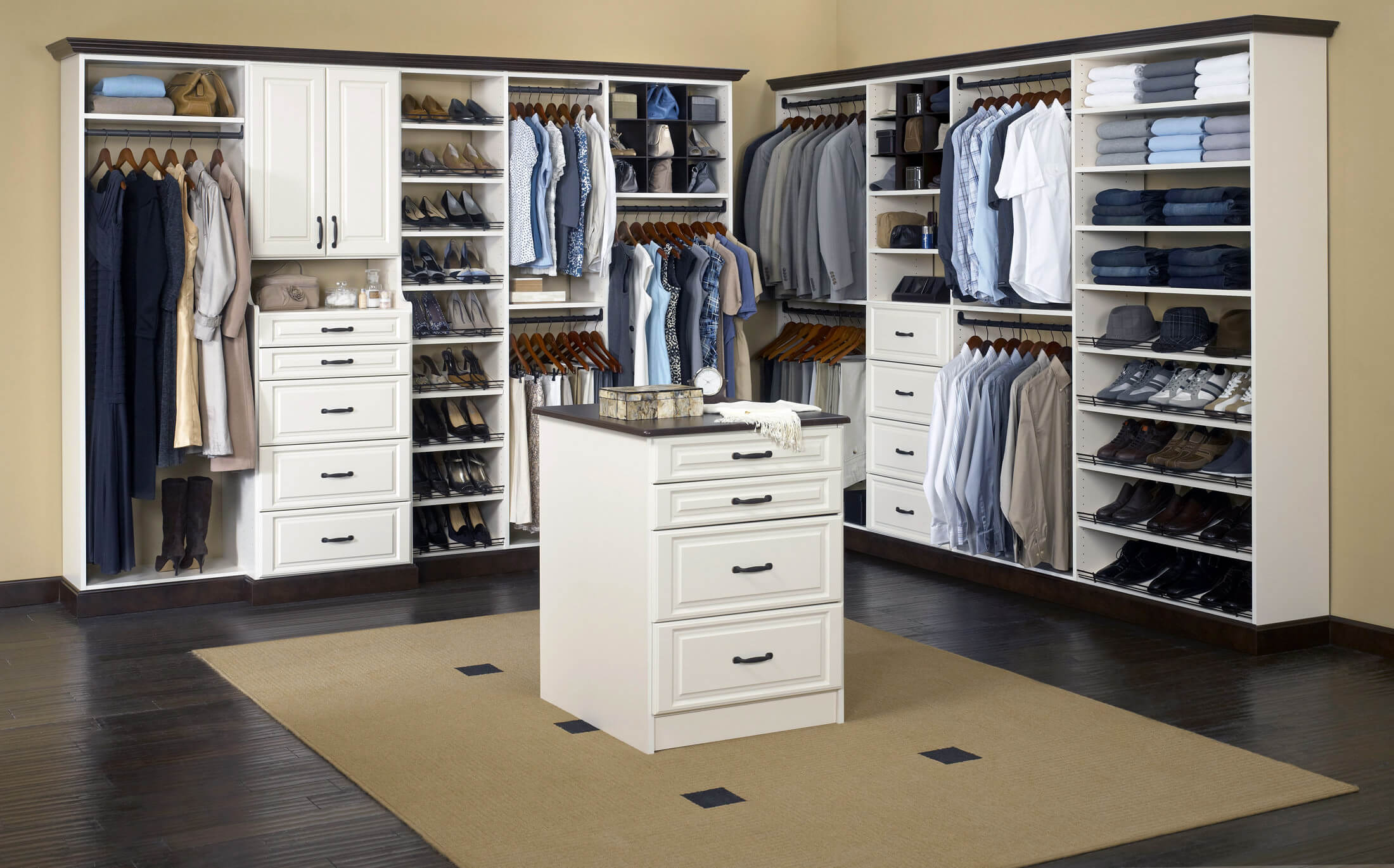 We have earned our reputation for
designing and installing great closets.
Good designs can make the most of your
space. We do that!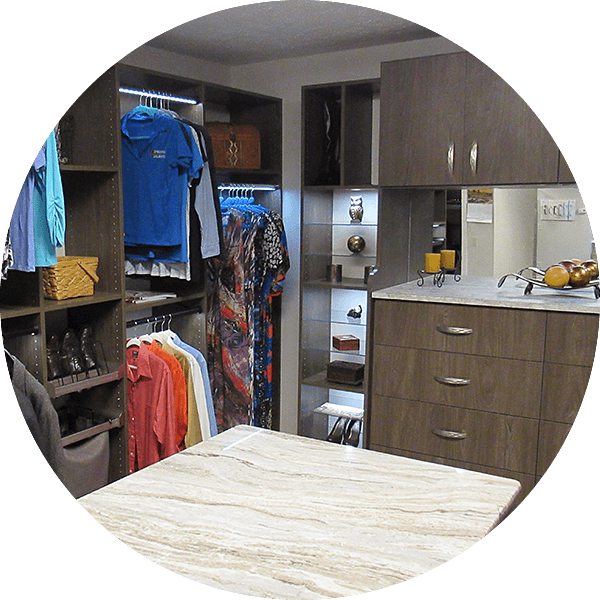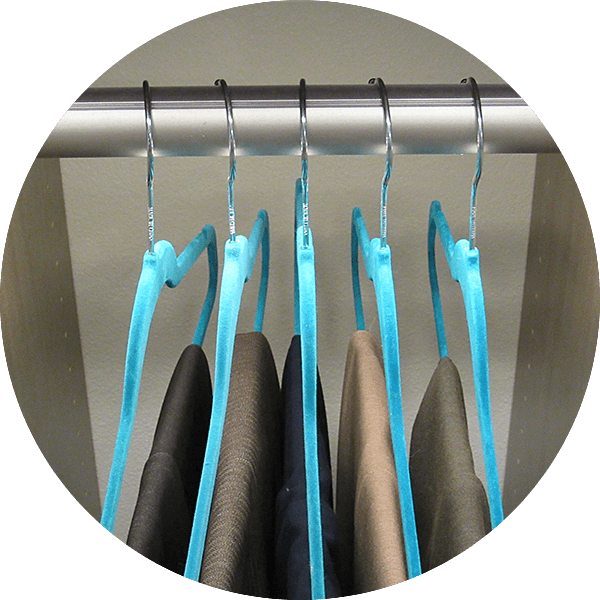 Call us at 815.654.3000 to schedule a FREE in-home consultation or setup a time to visit to our newly remodeled showroom.
We will meet with you, preferably at your home where we can observe what space we have to work with and what your wardrobe or other requirements are for that space.
Once your requirements are determined, we will give you a quote including the options you are interested in. We DO NOT charge for this service.
Take your time to review our quote and ask us any questions that you may have that need clarification.
When you decide to move forward, we will then order the necessary materials and manufacture your closet design. We will then install and be in and out of your home within a single day.
HOME BUILDERS, REMODELERS, & ARCHITECTS
One of the easiest ways to add value and desirability to your home construction is through the use of a custom build-out of your walk-in closets.
Homebuyers love the modern style and sophistication of our closet designs!
OUR DESIGN - YOUR BRANDING
Let Shelving Unlimited do all the heavy lifting, and then you can sell the completed installation underneath your brand. We can design, manufacture, and install the shelving (allowing you to utilize your crew elsewhere).
BATH HARDWARE, CUSTOM MIRRORS & GLASS SHOWER DOORS
We are experienced working with builders and have learned other ways we can make your job easier. We can install nice quality / reasonably priced bath hardware that we would install the same day we do the closet shelving. We can also provide and install custom made-to-order bathroom mirrors that can feature a wood framed edge.
We also fabricate custom glass shower doors! Click Here for more information. Consider it done!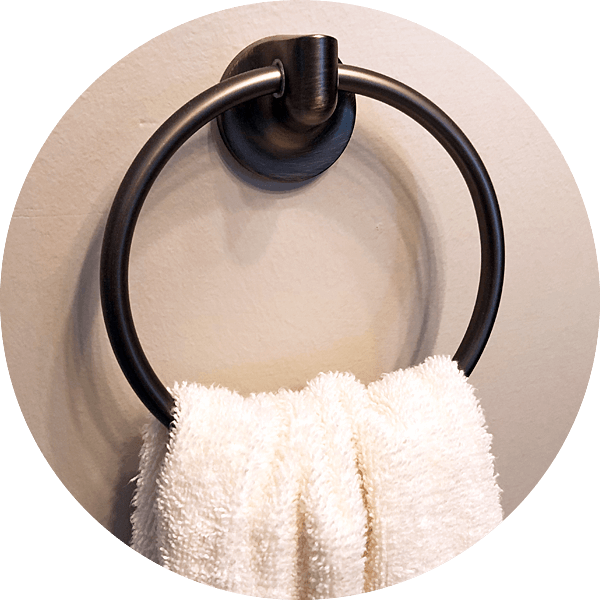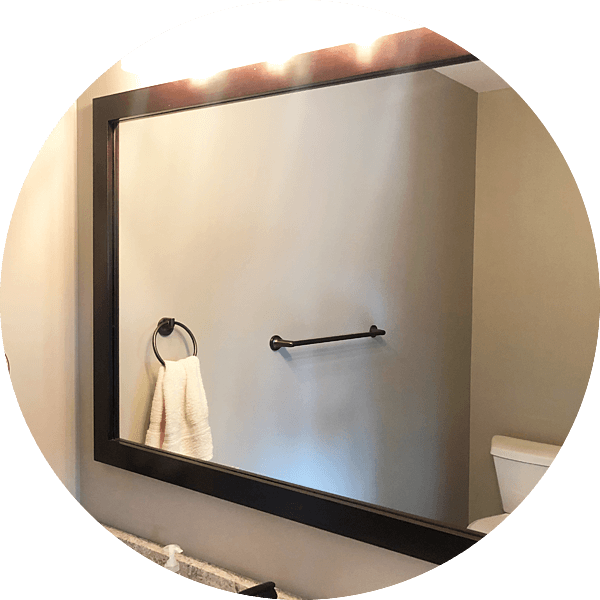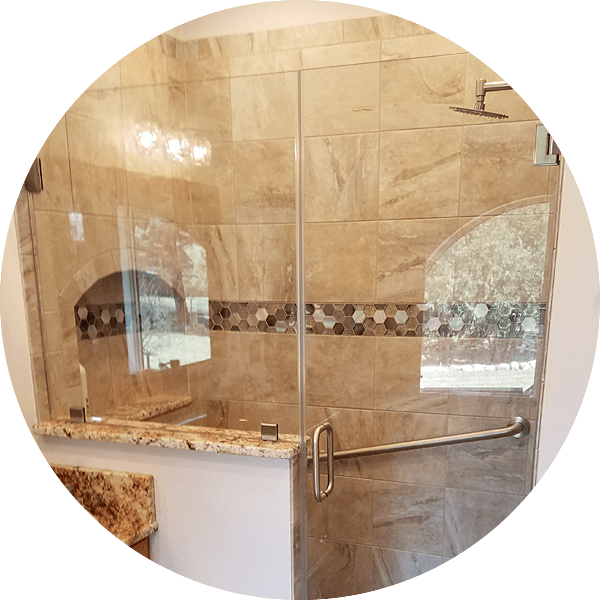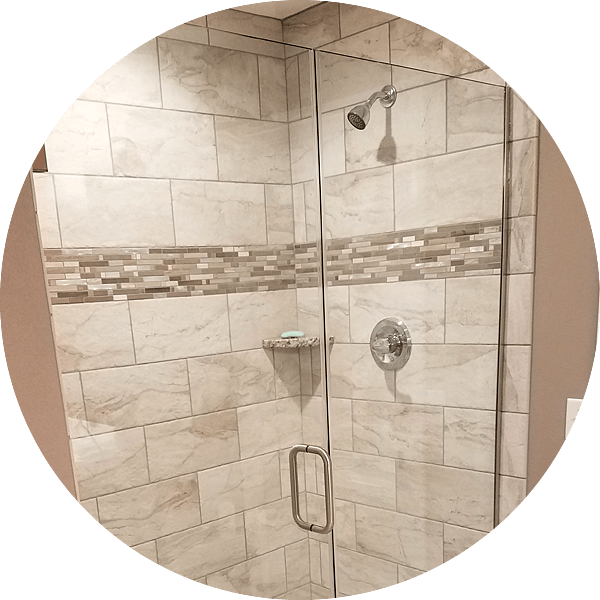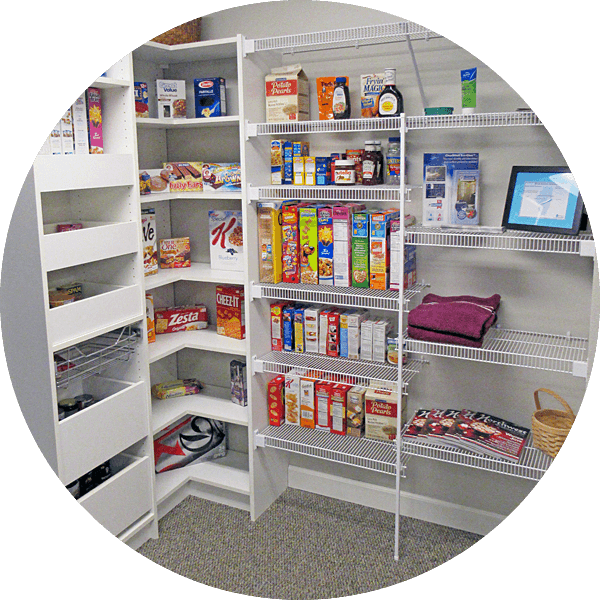 Low on Cabinet or Counter Space?


Try Upgrading Your Pantry!
We often see larger families lack the ability to store enough food to prevent the need for frequent trips to the grocery store.
Therefore, those families either buy less food simply because they cannot store it, or the food is stored in other areas of the house creating an unorganized mess.
We have designed many pantries over the course of our 35 years of experience, and we know exactly how to help increase the efficiency of your pantry for improved food storage and functionality.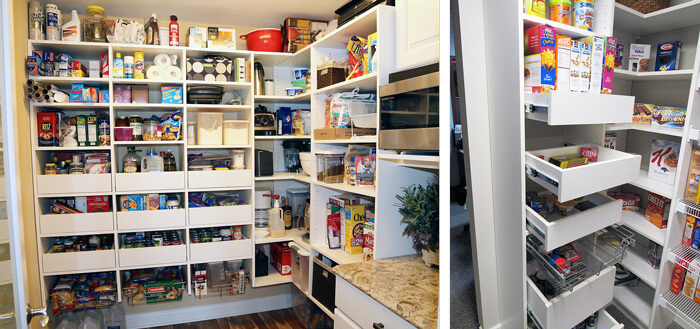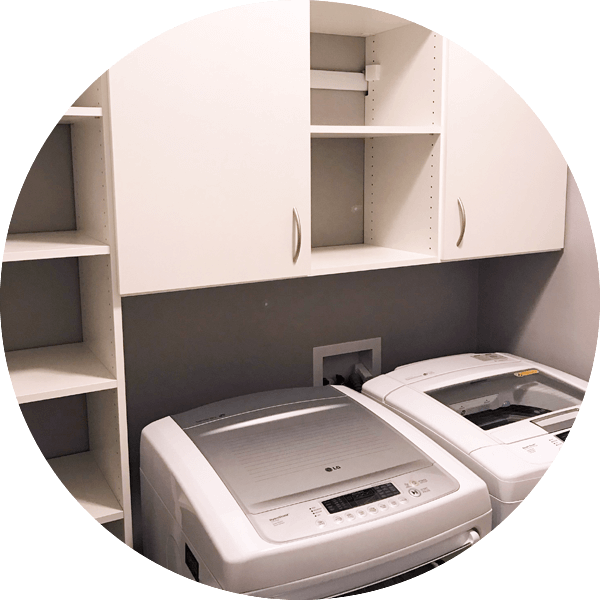 Does Your Laundry Get Neglected?


We Can Make Your Life Easier.
One of the most neglected areas in many homes is the laundry room. Why is that? Most housewives have outside jobs. Doing laundry is not the highlight of their lives.
After a days work, who wants to come home to a pile of dirty clothes? It may not ever be fun, but we can make that job a lot better.
From normal cabinets to stowaway ironing boards, we can design it and install without you ever getting your hands dirty.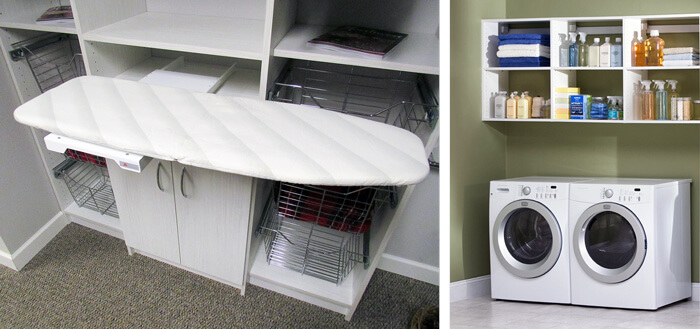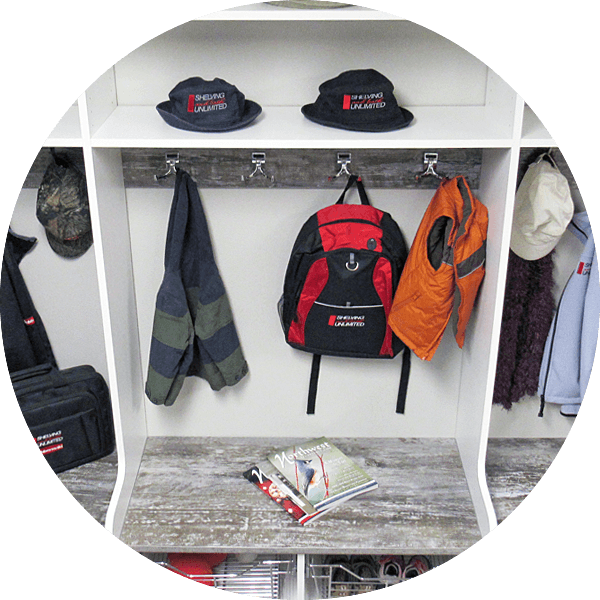 Tired of the Mess?


We Can Reduce Your Clutter!
Are your family's coats, hats, gloves, and shoes in your way? We can help!
More than likely, your mudroom is lacking an efficient design layout that works for your family.
We will analyze your needs within a FREE in-home consultation, and then design a layout that will help eliminate your clutter.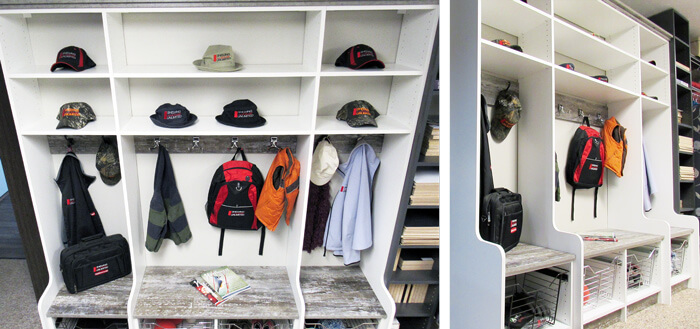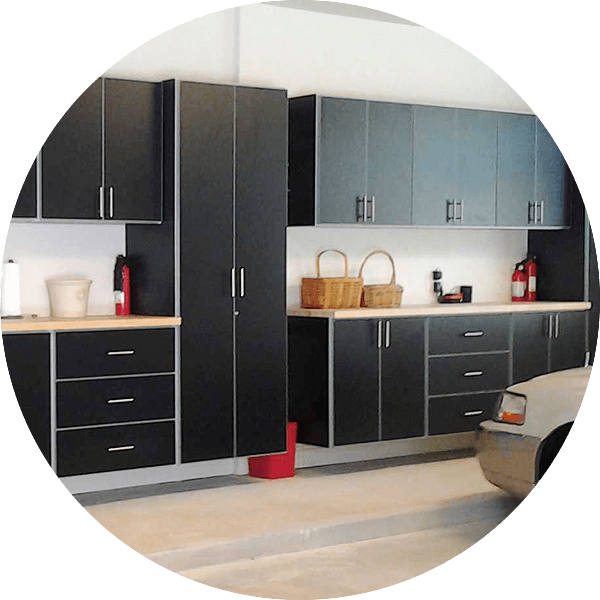 A Forgotten Room in Your Home?


Be Proud of Your Garage!
Are you proud of your home, but embarrassed by your messy garage?
Our hang rail system will get your gardening tools off the garage floor. We have melamine cabinets that can store all of your other outdoor necessities.
Increase the useable storage space in your garage and raise the value of your home by contacting us today at 815.654.3000.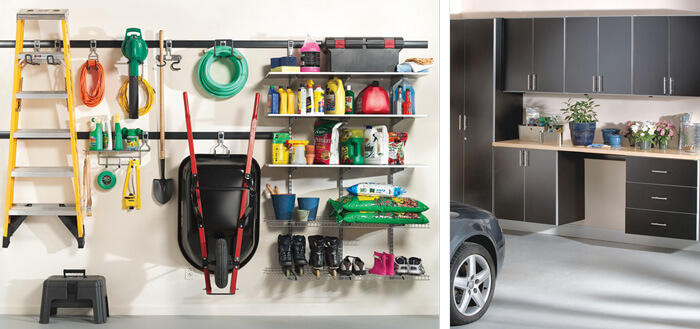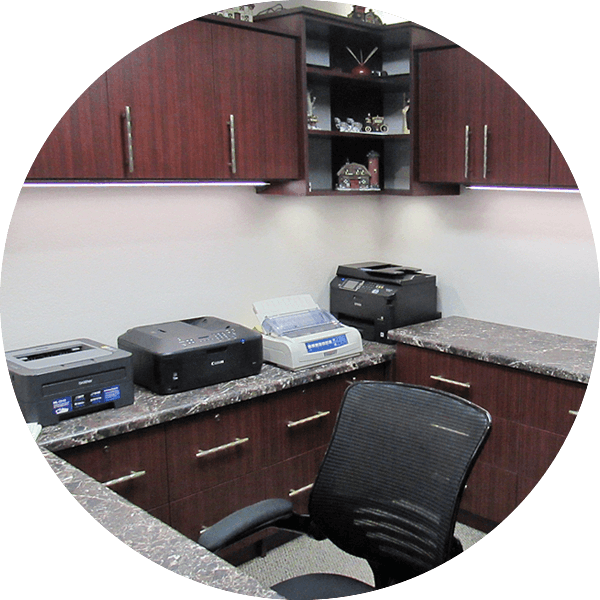 Having Trouble Finding the Perfect
Home Office Furniture for Your Space?

Finding furniture to fit your home office space can be much more challenging than you originally thought.
Home offices can be very unique spaces with sometimes unconventional dimensions.
Eliminate the hassle of dealing with the Big Box stores and let us design custom home office furniture to fit your space perfectly and maximize your productivity.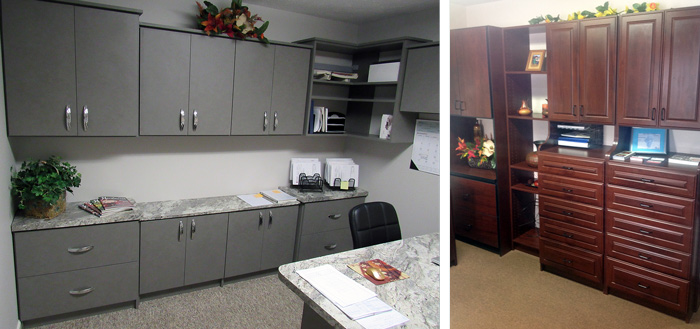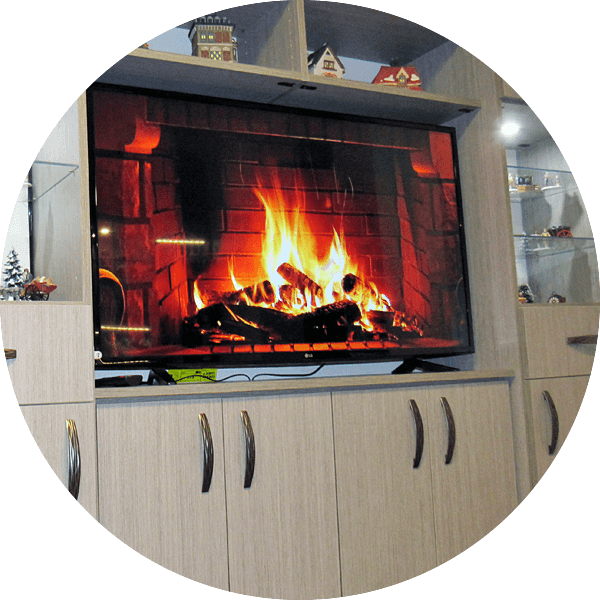 Would You Rather NOT Hang Your TV on the Wall? We Have Another Option!
The TV in your family room is more than likely the epicenter of your family's entertainment. Have you ever considered a custom designed entertainment center?
An entertainment center can serve as the centerpiece in your family room, as well as house the many forms of entertainment used by your family, such as Blu-Ray players, streaming media devices, and gaming systems, etc. It can also hide those unsightly cords!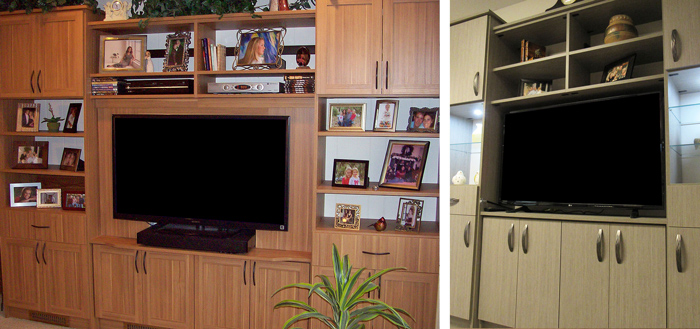 Upgrade to Epoxy Coated FREESLIDE Wire Shelving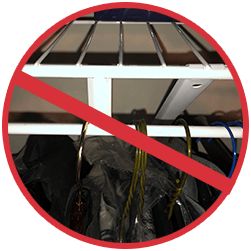 Do you have closet shelving that does NOT allow you to easily slide your clothes hangers?


That type of shelf is best known in the industry as 12" shelf-rod or SR-12 and is used primarily for volume installations because it's low cost.
Our FREESLIDE shelving delivers much more value and functionality! We can offer you a completely custom design layout for your closet using our wire shelving. Available in white or satin nickel.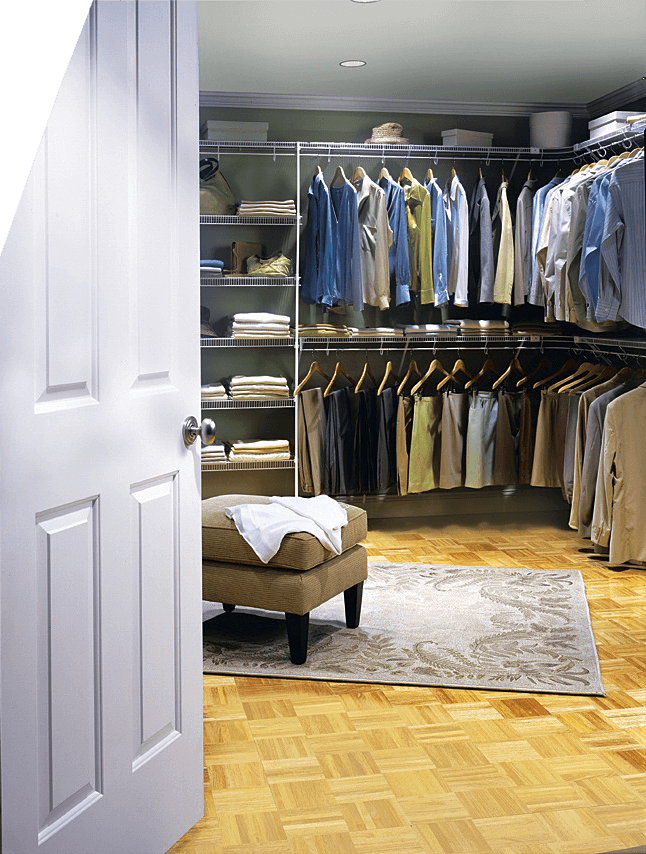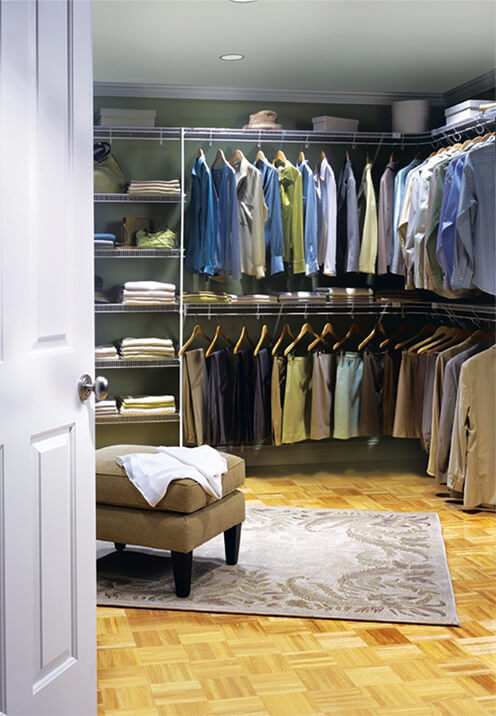 Custom Glass Shower Doors Done Right!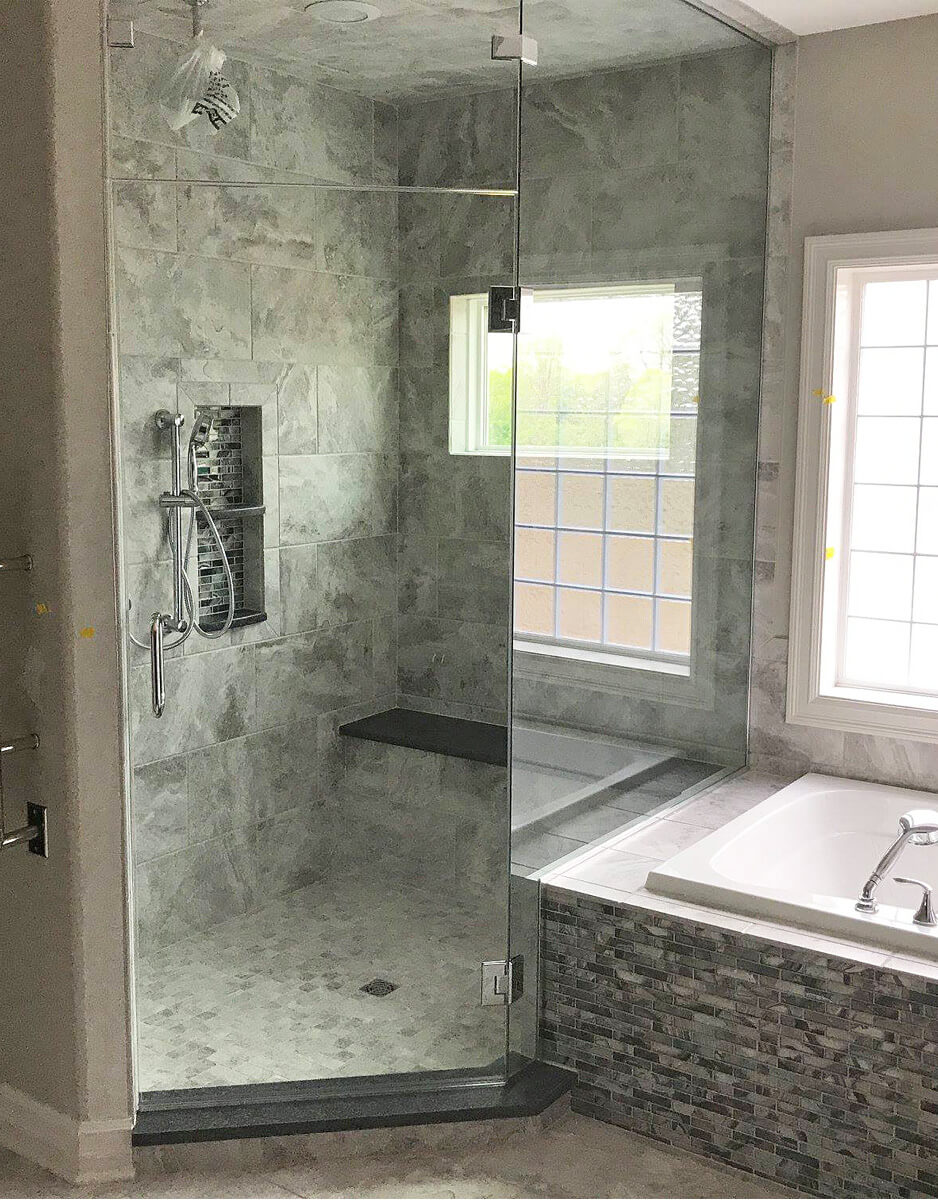 Shelving Unlimited also specializes in custom glass shower doors for practically any shower application.
What you need to know when hiring a company for your glass shower doors is that FABRICATION is the most important.
OUR FABRICATION PROMISE:

Not all glass companies take the necessary time to custom measure every inch of every wall. For example, some walls may be plumb, while others are not. If by chance your walls are not plumb, and the company you hire for glass is not willing to custom cut the glass specifically for your application, you will be left with an unappealing gap between your wall and the newly installed glass.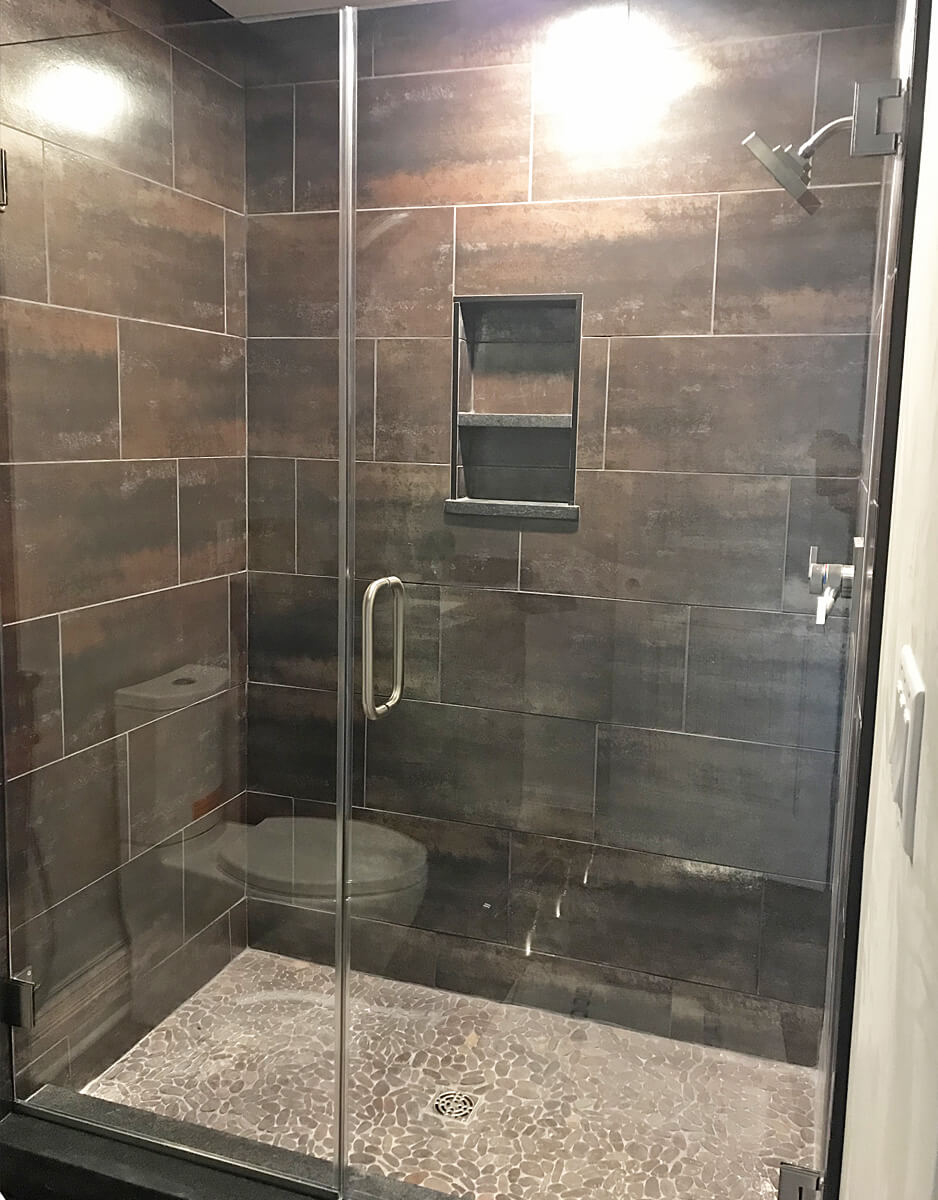 We promise to custom measure every application and are indeed willing to custom cut a piece of glass to fit snugly within your shower application. We are extremely accurate and want you to be 100% happy with our work.

CLEAN EASIER WITH CLEARSHIELD:

We offer ClearshieldTM glass technology that helps protect your newly installed glass shower doors against hard water deposits and limescale buildup, prevents the growth of bacteria, and also prevents the need for harsh and abrasive cleaning products.
SHOWROOM TOUR:

Call 815.654.3000 to setup an appointment in our showroom to view 6 different types of glass shower door installations that feature different options and varying types of glass to accommodate your budget.